(These instructions are provided for changing out inks. Flushing is often used to change inks. This is not the recommended procedure for trying to unclog a printer. To unclog a printer - you need to run a procedure that provides suction rather than isolated printing of the channel. Please refer here for flushing a printer to unclog it.)
To print from one specific ink channel (which is helpful when flushing just one line, without wasting ink in the other positions by doing power clean cycles), you can use the QuadTone RIP's Calibration Mode. The QuadTone RIP is a $50 shareware program, which can be downloaded from www.quadtonerip.com
The QTR Print Tool is necessary when printing from Mac 10.6.8 or higher, for accurate output (other printing applications have screwed up color management that will produce poor Piezography output). QTR PrintTool can also be downloaded from www.quadtonerip.com
Pre-made QTR flush images are attached below, and include one image for each color channel, as well as an all-channel image for 8 and 10 color printers
WINDOWS:
Open QuadTone RIP and select the paper size you wish to print on
Select Tools> Options> Calibration Mode, which will automatically open an inkseparation image file.
Open the desired flush image by selecting File> Open
Select 100% on the "Ink Calibration" slider if printing on heavyweight, coated/print paper or 50-80% if printing on uncoated, very thin or typing paper.
Select the paper feed: either sheet or roll, 1440dpi is fine to select for this purpose, bi-directional will print faster than uni-directional
MAC:
Open the "QTR flush" image in QTR Print Tool (10.6.8 or higher) or Photoshop (below 10.6.8), specific for the color channel(s) you wish to flush
Select "NO Color Management" in the Print Tool window
Select your K7 printer model, and paper size, then push print
In the QuadTone RIP window- select Calibration Mode, Ink Limit: 100% and Resolution either 1440 or 2880dpi
Select 100% saturation if printing on heavyweight, coated/print paper or 50-80% if printing on uncoated, very thin or typing paper.
Select paper feed: either sheet or roll, 1440dpi is fine to select for this purpose, bi-directional will print faster than uni-directional.
EXAMPLE: The photo below shows two Piezography ink shades being switched using this procedure. To do this, I made a custom flush image using the specific RGB colors for the two color channels I needed to flush, then printed four 24x36 sheets after changing carts loaded in these two positions of the printer (it was a 7880 model printer). If only one channel needs to be purged, then full sheets of that color specific purge sheets should be printed until the new ink is printing fully.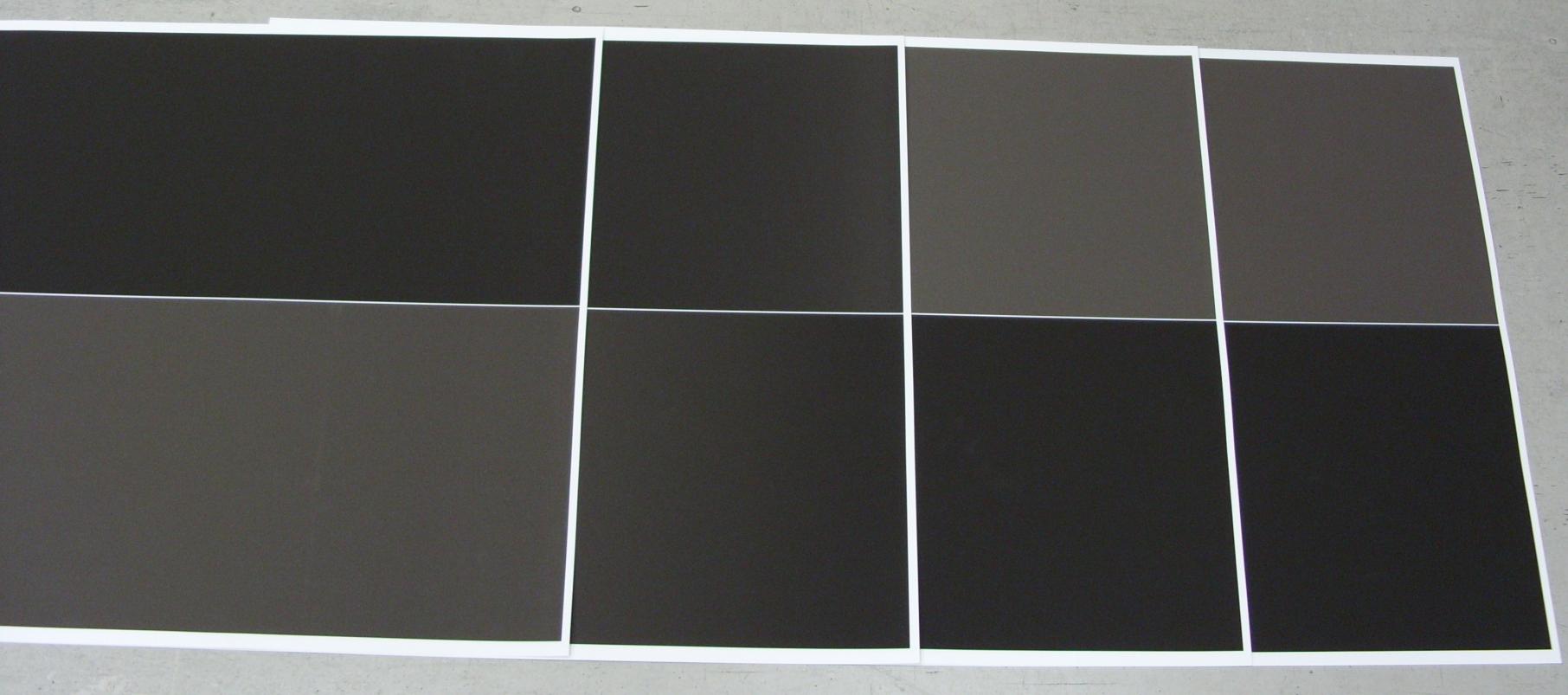 QTR Cal Mode Flush Images.zip (434.6 KB)
©Copyright Vermont PhotoInkjet, LLC All Rights Reserved. No parts of this can be reproduced without written permission.