Just installed a new set of capsules in EZFill keys for my Epson 1430. A few empty nozzles but that's pretty common on a fresh set of carts or refills. So I ran a head clean or two but got what I would describe as a "spatter" pattern for the K, or Black, position. Following Dana's excellent video I did a head clean (the "shoe shine" method), capping station and wiper blade clean. Got rid of most of the spatter, but then the right side of the black pattern moved a little bit into the Light Cyan Pattern, and the left side moved away the Yellow, leaving a small gap.
Ran the Alignment utility, and after 13 (!) adjustments the black pattern settled correctly into its space. Finally got an excellent pattern. This morning, 24 hours later, I ran a nozzle check and immediately got another spatter pattern. Note how the pattern moves into the Light Cyan pattern as mentioned earlier.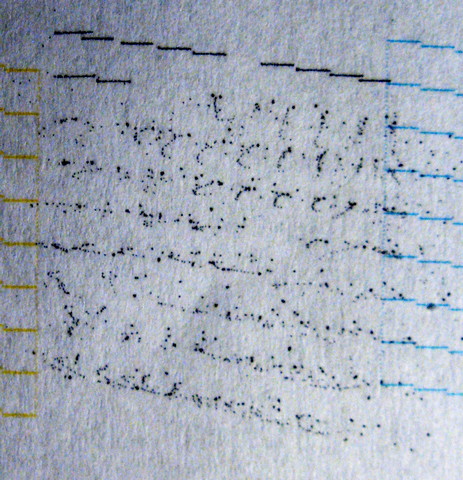 Any suggestions? I have never seen a nozzle check like this. I'm about to try the syringe push/pull technique Dana mentions but somehow this doesn't seem to call for that… I could certainly be wrong.