What curve(s) did you use in the QTR setup?
Keith
So, I have some work I want to do in Black and White with Cone Color inks. I have done this before, and on matte paper, I have liked the results. But today, the monitor and the print were far aprt, and the results disappointing.
I have calibrated my NEC monitor. I am using a new-ish iMac, with the latest OS. I have an Epson 9880. I brought a Nikon 810 RAW file into Photoshop, where I adjusted it according to my desired outcome. I then exported the file to the desktop, and then placed it in the QTR Print Tool. Set on No Color Management. The results way too dark and flat.
I then tried one where I again adjusted it in Photoshop, made sure that I had Color Handling as Epson Hot Press Bright, and set it to Photoshop Manages Colors. Sent it to the printer from the Photoshop Print Driver. Also too dark and flat.
I had printed color the day before, and all was well, so I don't have an ink cartridge in the wrong place, or anything like that.
What am I forgetting, not doing, or assuming?
Thanks,
David
No Color Management is what I used.
No Color Management is correct in Print-Tool, but in the next dialog you still have to setup the QTR settings. It will look something like this: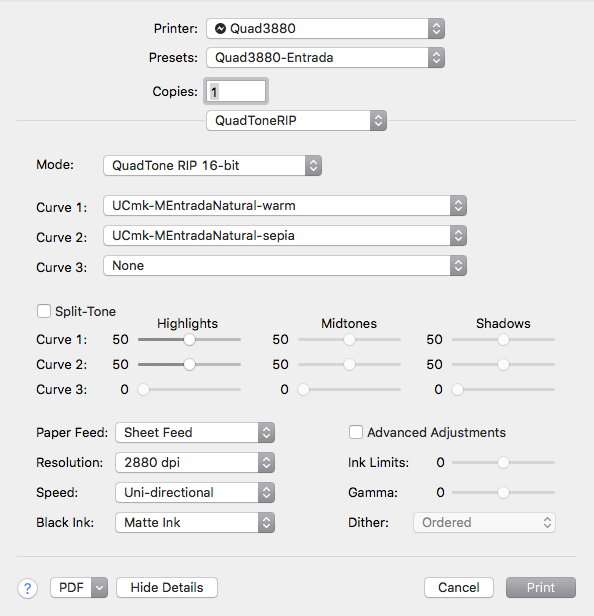 You must have a curve in Curve 1. The others are optional. Since you are new at this, I suggest starting simple with a single curve. If you don't see curves with names similar to this, you may not have installed them when you installed the Quad printer. They are part of the …-UC installation.
You used the QTR Print Tool, but did you print to the Epson 9880 driver or the Quad9880 driver?
Photoshop Driver, I think? I mean, when I checked the print settings, I made sure that it had my paper (Hot Rpess Bright) as the paper it was calibrated towards. isn't that the Photoshop driver?
There isn't a Photoshop driver on the Mac that I know of. So did you see the QTR driver like
jkschreiber shows above, or did you see the normal Epson driver like below: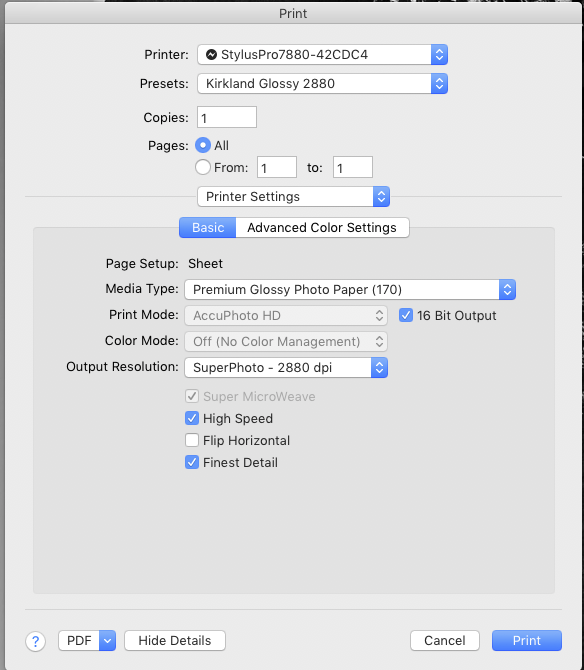 ? Pay particular attention the Printer (StylusPro9880 or Quad9880).