Is there an existing Piezography Pro curve I can use to print on Reich vellum? Thank you.
The "uncoated" curves I recently published as part of community edition were originally developed for Reich Vellum so these will work.
best
-Walker
I have tried installing Piezography Community Edition v.3.2.1 several times over several days with a fresh download each time but always with the same message: "Piezography Community Edition v.3.2.1 pkg can't be installed because its digital signal is invalid. The package may have been corrupted or tampered with. Get a new copy of the package and try again."
Any suggestions?
Thank you.
I think I fixed it just now.
Please download and try again!
best
-Walker
Thank you. I now have the curves successfully downloaded and in my Applications folder. When I try to follow your standard instructions for installation, I do not find any "install" icon to double click on pursuant to the instructions. I tried dragging and dropping but no luck. Please advise.
if you go to the correct /Curves or /Curves-HD subfolder you should see an Install(your printer).command that you can double click on. This is on the Mac.
regards
-Walker
Walker - I am sorry that I need so much handholding. In Applications > Piezography > Curves I find 3800-3880 Pro which, if I open, I find all of the curves including Uncoated Paper but nowhere do I see any Install icon.
I may be asking the wrong question. The curves are downloaded and on my computer. They are in the Applications folder. How do I get them into QTR so that they show up in the drop down menu on Print Tool? Thanks.
This is what I get when I double click.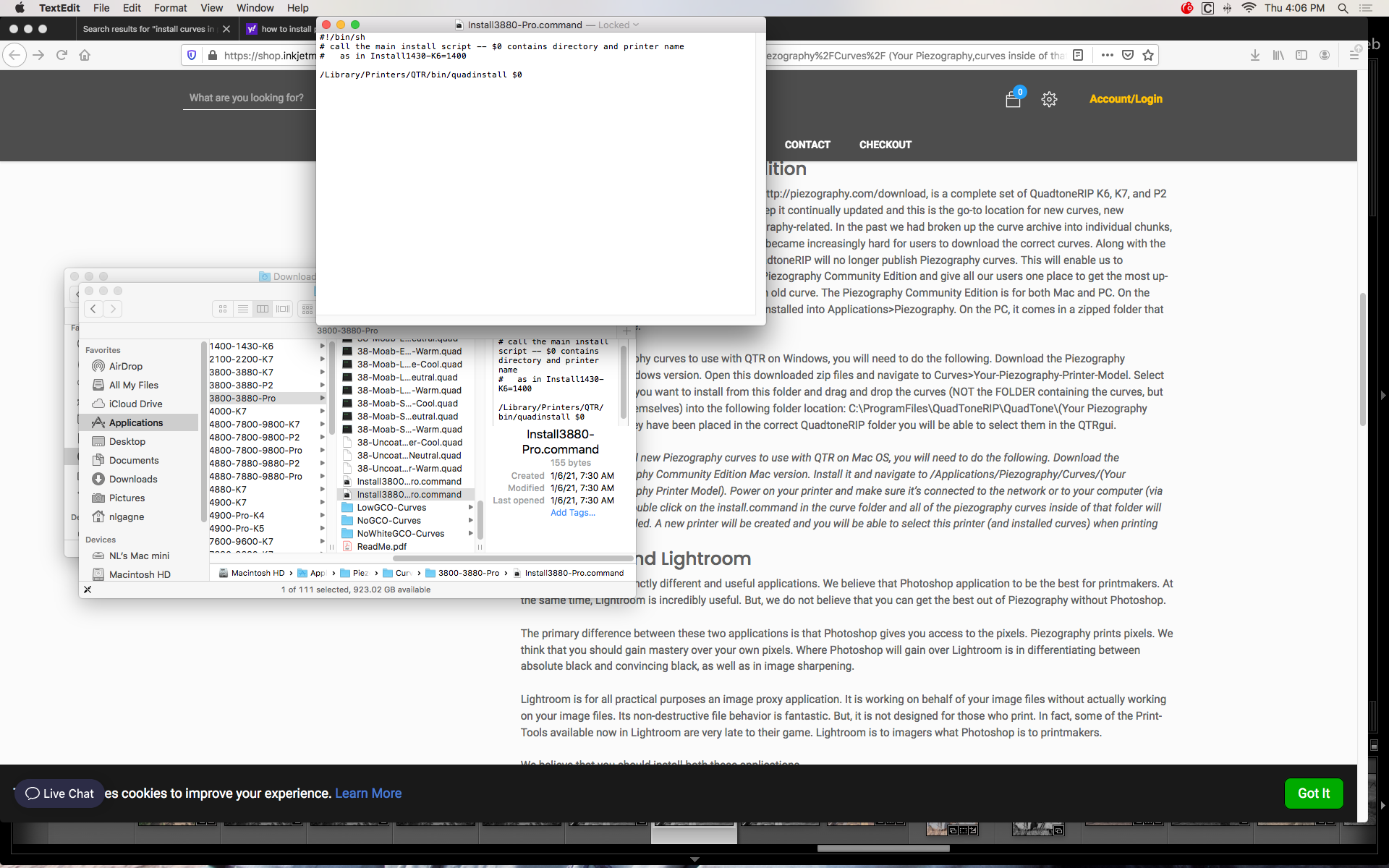 hmm. Something on your computer is preventing you from executing commands.
Open >Applications>Utlities>Terminal. This will pop the terminal icon onto your dock.
Then drag the command over the terminal icon to execute it.
best
-Walker
You are very patient and I appreciate it. I am tied up for most of the day and will try later. Thank you.
Walker
It worked! Thank you so much.
Norm Gagne
p.s. Please say hello to Jon. I took a workshop from him in Santa Fe several summers ago. I learned so much. Like you, he was very patient with my lack of technical skill.
One final question. Does AJIP in the Community curves mean Awagami inkjet paper? Thank you.
yes,
all the best
-Walker