P800
Piezo Pro
Hahnemühle Photo Gloss Baryta 320g REF No 10641 994
Mac 12.1
Calibrated NEC
Adobe RGB
85 cd/m
Gamma 2.2
5000k
Color Accurate LED light for viewing. 450-500 lux seems to match my monitor accurately
I'm back to printing after life got in the way this past year and fired up my P800 Piezo Pro system.
Previously I had my system dialed in to the point where the translation from my calibrated NEC to a print was extremely close. (using Soft proof in PS)
This past week I updated Print-Tool to 2.3.2 and Quadtone to 2.8.
Then I started making a print. It's been a good six months since I have printed so there is a very good chance that I am forgetting some small detail somewhere in the process and would appreciate your insight on where I am going wrong.
My usual PS 2022 settings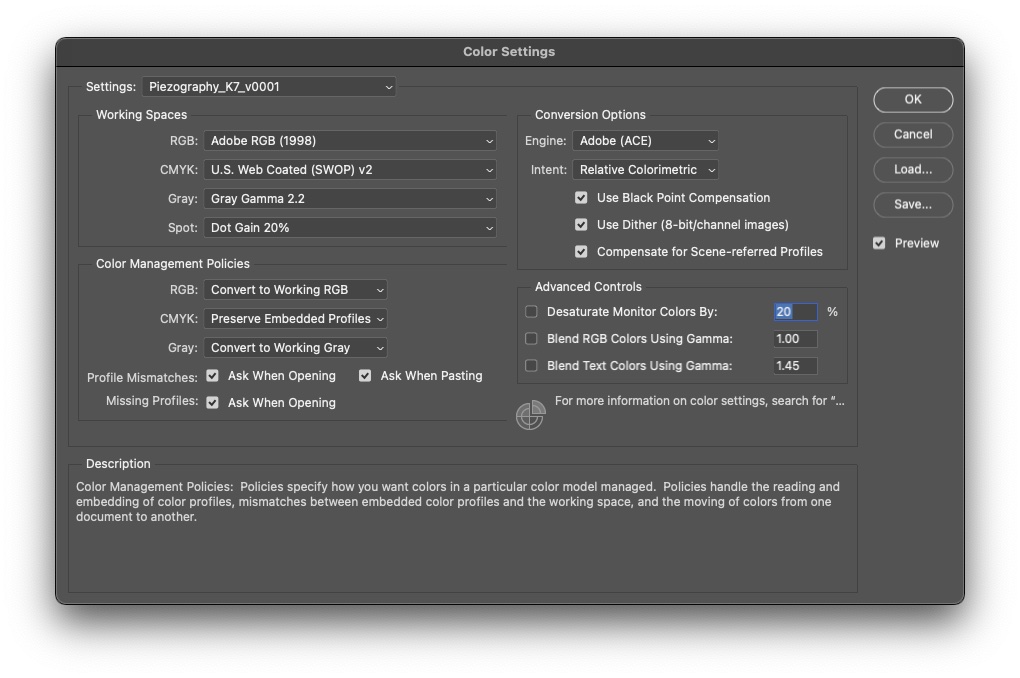 I have been printing from Print-Tool using the Super-Fancy Linear Photoshop Expert Option.
Print Color Management is set to "NO COLOR MANAGEMENT'
Optional Super-Fancy Linear Photoshop Expert Option: With Piezography we give you the option of printing your image in "linear mode" which opens your shadows more. If you want us to print in this way, soft proof by turning on "Preserve RGB Numbers" and keep the simulate black ink off. This will dramatically decrease your shadow contrast but then you can simply add a curve to dial the shadows down to exactly where you want them. Then request "Linear Expert Mode" from us when you order a print and this will perfectly match the condition you soft proof on your monitor. It takes more work to do it this way but sometimes that is worth it. This option is not available in any other application.

Here is the problem.
Print-Tool doesn't seem to be printing LINEAR when No Color Management is selected…
Also the image in the Print-Tool layout area looks like it does in PS with Soft-Proof turned OFF. I
And in my viewing booth the print is a dead match for what I see in PS and Print-Tool with Soft Proofing turned OFF
Any ideas?
thanks in advance.