This is my first post, and I am a new Piezography user. I read the manual. I really, really did. Several times! I am getting dark prints. I have K7 Neutral inks in an Epson 3880. The printer was working fine using mostly ABW (and some color) before I converted to piezography inks a couple of weeks ago. The printer is 2 years old, and I am the only owner. Nozzle checks are good and always have been. Here is where my inks are:
[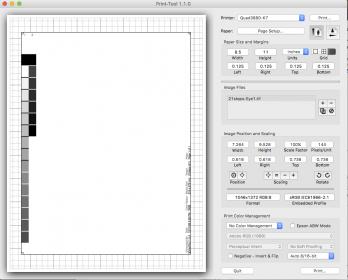 ]

I am using a NEC PA272W monitor calibrated with SpectraView to 85 cd/m2, D50, contrast ratio 250:1, Gamma 2.20.
I am printing on JCSType5, using curve 3880-WN-SEL-NU-JCStype5, 2880 dpi, uni-directional. I use front feed exclusively to avoid pizza wheel marks.
I use a Mac, OS 10.11.4 (El Capitan), and PS/LR CC2015. I use Print-Tool 1.1.0 to print.
I have a Colormunki Photo, and I have measured the L* values for the '21steps-Eye1.tif' both (a) printing directly in Print-Tool using the unadulterated RGB untagged [it shows up in Print Tool as having an Embedded profile sRGB IEC61966-2.1], and (b) converting it in PS to Grey Gamma 2.20, saving and then printing in PrintTool. I get the same results either way (this is after drying, applying GO using the curve 3800-3880-30000GO, using a leading strip, drying again).
So I realize I must be doing something wrong here but I am out of ideas. The linearity profile does match the darkness of my prints, so at least that appears consistent. So here I am, and hoping I can get help. Thanks, Wayne