Good Day
Just recently, our Epson 9890 has developed an issue with it's Light Cyan.
Basically, the middle third of the head is not emitting ink.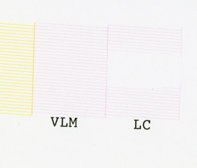 The color is pink because it is Pieso Cleaning Solution.
We have tired every type of cleaning cycle we know (including Service Mode SSC) without any change whatsoever.
We have even tried the VLM and LC Piezo clean cartridges and solution.
There has been no change whatsoever.
The pattern for LC looks like this:
---
---
---
---
---
---
---
---
   -----

---
---
---
---
---
---
---
---
Any suggestions at all would be greatly appreciated.
Thank you