Aloha,
RE: Questions in regards to my Epson 7800 nozzle head pattern - condition of my printer head.
Equipment/Materials: Epson 7800, IJM 7800 Refillable carts, Piezoflush. 47% humidity, 72F degrees constant condition. Printer's service life on all components/parts are 100-81% which shows as E*****F.
Piezoflush is in the printer and have a perfect nozzle pattern. No missing lines, All lines are consistent and full.
Ready to load Piezography K7 inks.
While in the process of loading K7 inks into the printer, I ran one final nozzle checking with Piezoflush installed.
I've only noticed now that the Yellow position nozzle is ever slightly 'lighter' than the rest of the nozzle patterns.
The 'Init fill' procedure with Piezoflush went smooth and got a perfect nozzle pattern the very first time.
I've never noticed this 'lighter' pattern when Epson's OEM inks were installed.
The 'lightness' is noticeably under close inspection.
I have adjusted/darkened the photo I included because the nozzle check pattern in Piezoflush was difficult to scan to show accurately.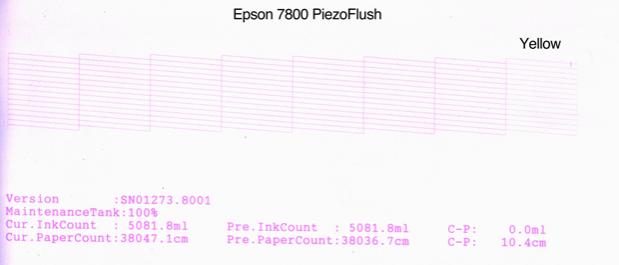 Question: Does anyone know if this is something to be concerned about? I have not had any problems with banding or clogged nozzles prior to noticing this with Epson OEM K3 inks installed.
Just wanted to make sure that this is not an issue before loading my K7 inks….
Any help is appreciated!

Kind regards, Carl